Weekly Digest
February 18, 2020
We're switching email systems to better communicate with you! You may receive our "welcome emails" in the near future. Please use the Unsubscribe link below to change your email preferences.
Day of Remembrance Events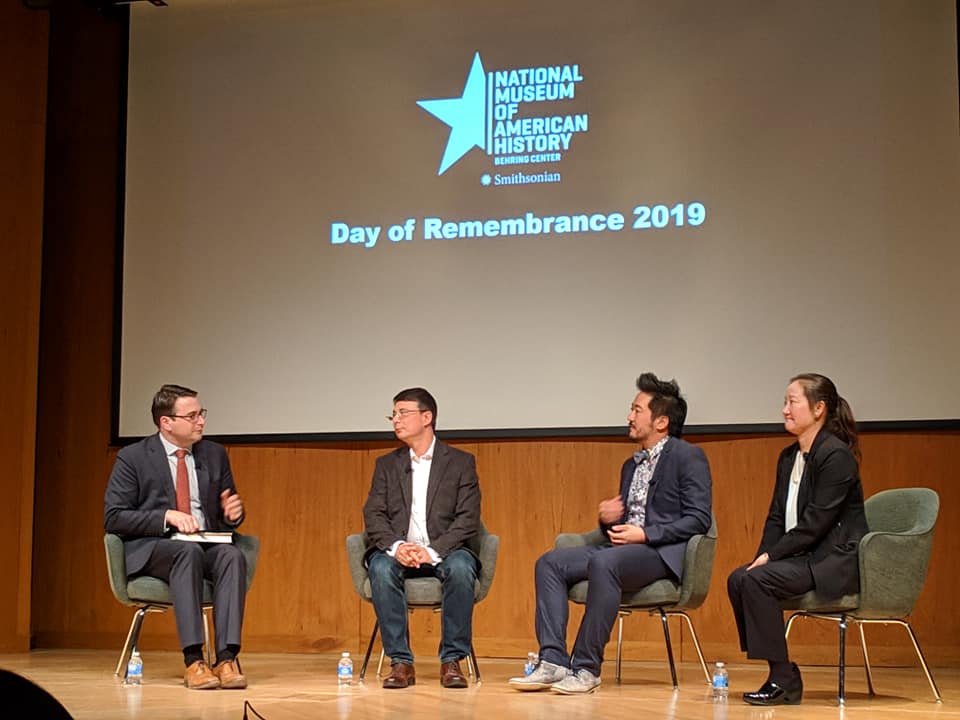 JACL has compiled a list of all of the Day of Remembrance Events coming up around the country for members and their communities to be able to search for events near them. If you have any last minute DOR events in your city or know of any, please email our Policy Fellow, Matthew Weisbly, at mweisbly@jacl.org with details for the event!
JACL/OCA Leadership Summit Applications Out Now!
The summit has been going on for over twenty years and is dedicated to fostering bonds between JACL and OCA, as well as training community leaders in advocacy. You will hear panels and workshops featuring leaders from national civil rights organizations, meet with members of Congress on the Hill, and learn effective tools for local and national advocacy.
The 2020 summit will take place in Washington, D.C., April 25-28. You must be a JACL member to participate in this program through this application. Participation through this application is open to all JACL members. You will be expected to arrive for a Saturday evening session and to stay through the end of the program Tuesday afternoon.
All expenses are paid through the generous support of summit sponsor State Farm and the JACL sponsoring District.
Please contact Matthew Weisbly or Cheyenne Cheng with questions.
JA Confinement Sites Consortium
Advocacy Days in Washington, D.C.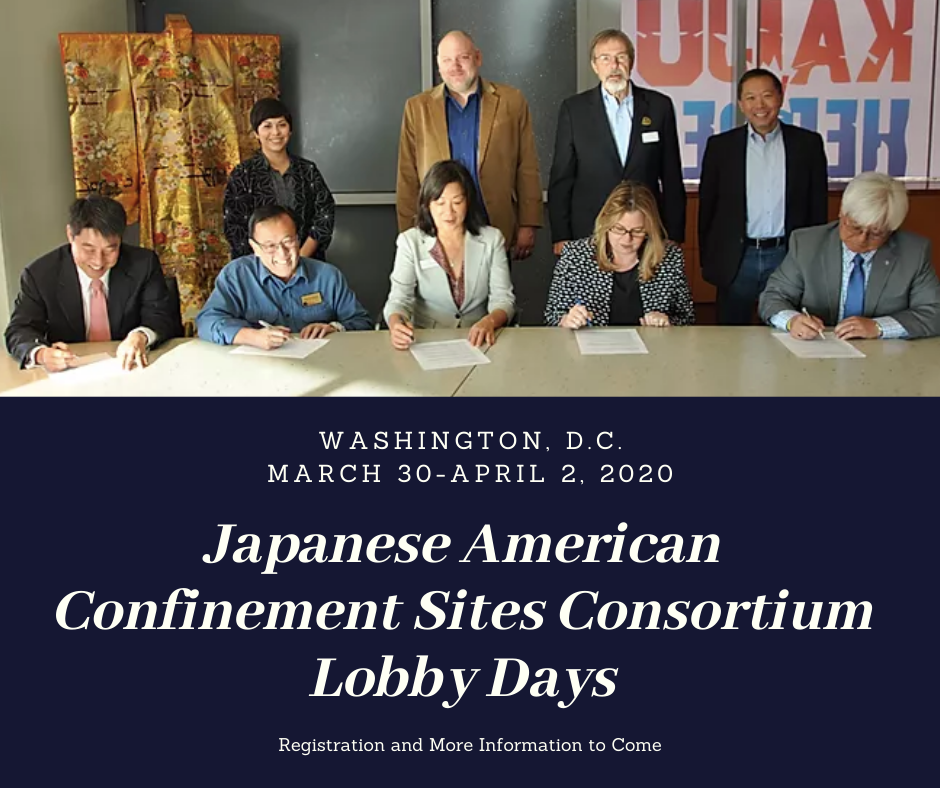 If you are interested in joining us for the JACSC Advocacy Days, please click the photo above to be taken to the pre-registration link to help us begin scheduling Congressional Office Visits! The full registration link will be coming out shortly.
CAIR to Premiere of "Muslims at Manzanar: A Civil Rights Journey" on Day of Remembrance
On February 19, the Council on American-Islamic Relations (CAIR), the nation's largest Muslim civil rights and advocacy organization, will premiere "Muslims at Manzanar: A Civil Rights Journey" online on the anniversary of President Roosevelt's signing of Executive Order 9066 allowing the incarceration of Japanese Americans and others in internment camps.
This documentary follows CAIR staff as they participate in the 2019 Manzanar Pilgrimage that commemorated the 50th anniversary of the first organized Manzanar Pilgrimage in 1969.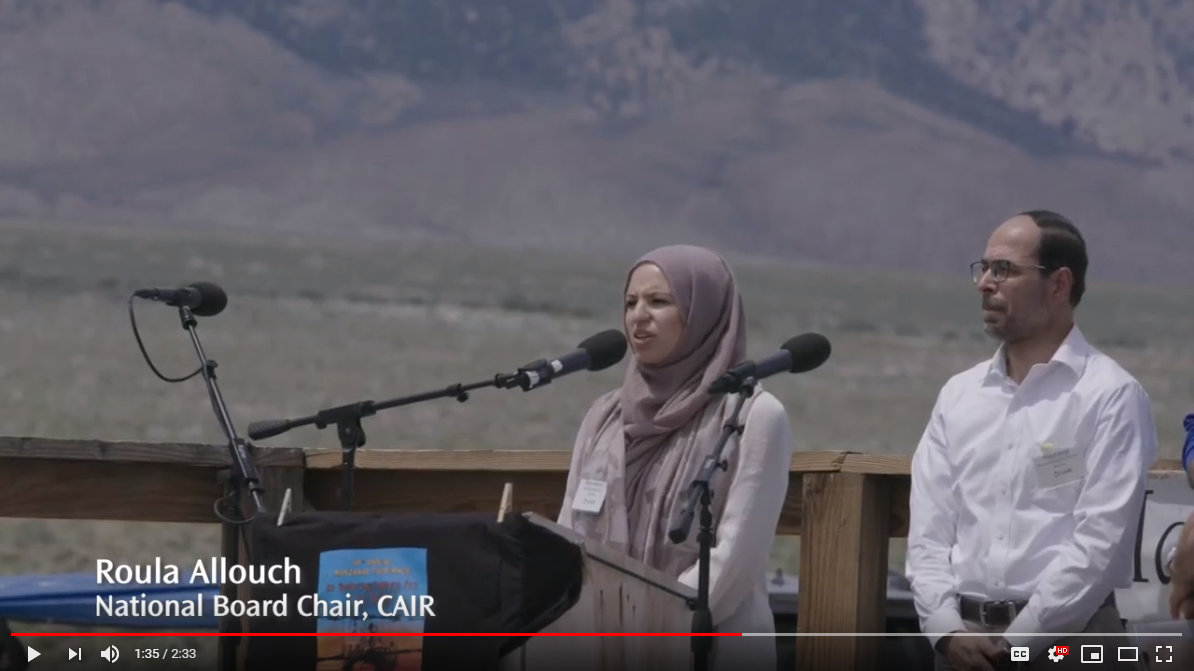 The documentary will premiere on Facebook, YouTube and on CAIR's website: www.cair.com
Save the Date!
2020 JACL NATIONAL CONVENTION
June 24 - 28 Las Vegas
Japantown San Francisco - February Focus Groups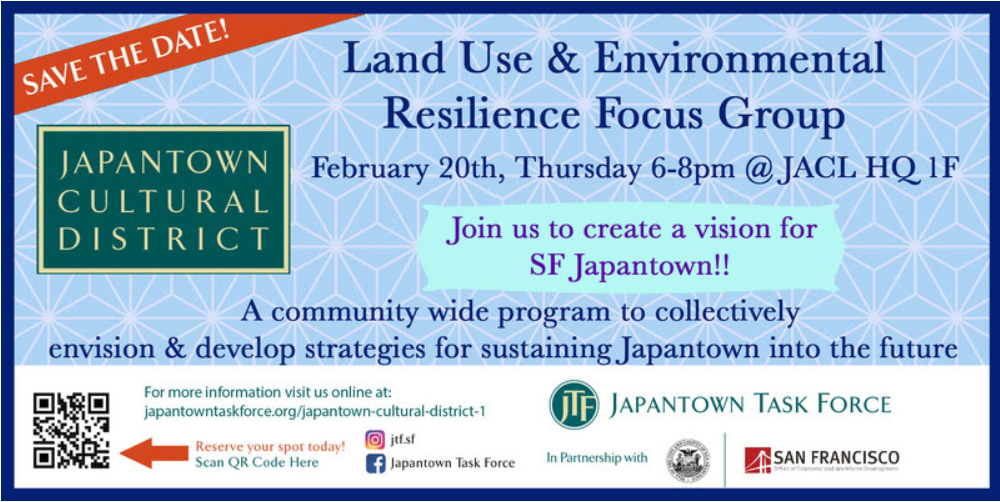 What do you envision the future of Japantown to look like?
Well, you have a precious opportunity to share your ideas and input so that we can collectively determine our next steps for implementation toward the bigger vision. Whether you attended the Town Hall Meetings last year, or not, Focus groups allow us to take a deeper dive into the most prominent challenges and opportunities in 6 Key Areas.
The Japantown Cultural District is a community-wide program to collectively envision & develop strategies to sustain Japantown into the future. It is a formalized collaborative partnership with the City and County of San Francisco to stabilize historic communities at risk of displacement and gentrification. This year, 2020 the Japantown Cultural District Team will synthesize all of your input and develop the CHHESS (Cultural History, Housing, and Economic Sustainability Strategy) Report.
The CHHESS will be submitted to the Board of Supervisors in late Summer of 2020, and will focus on implementable and prioritized action items. Your ideas are a key component for synthesizing this CHHESS strategy!
We have an opportunity to voice our common vision, and be heard.
Minoru Yasui Student Contest 2020
Righting a Wrong! Min Yasui and Redress!
Contest Prompt:
Reflecting on Minoru Yasui's legacy during the Japanese American redress and reparations movement, create an action plan for a civil rights violation that the United States should redress today (to apologize for, to set right).
Contest Website: https://sites.google.com/view/minyasuicontest2020/home
Exhibit Proposal due: March 15, 2020
Make Your Own Exhibit due: March 28, 2020
Minoru "Min" Yasui saw people treated unjustly in 1942 and he took action. On March 28th, Oregonians commemorate Min's legacy of justice that began with his challenge of the curfew placed on Japanese Americans during World War II. From 1976 to 1984, Min Yasui served as the chair of the Japanese American Citizens League's National Committee for Redress which fought for an apology from the United States government for the unjust incarceration of Japanese Americans during WWII. However, Min passed away before the passing of the Civil Liberties Act of 1988. Though he did not live to see the government's apology, Min's legacy inspires us to take action today.
Make your own exhibit!
Create a Tri-Fold Poster, a photo exhibit, or a short film to capture your redress action plan! Your exhibit should relate an event, action, or violation that occurred in the history or recent past of the United States.
$100.00 to $200.00 Award prizes.
Open to middle and high school students in Oregon and SW Washington
For more information email us: info@oregonnikkei.org
Minoru Yasui Day
Saturday March 28, 2020
"What is done to the least of us, can be done to all of us" - Minoru Yasui
-Courtesy of Kurt Ikeda, Japanese American Museum of Oregon
JACL Legacy Fund Grant Applications
JACL Chapters and Districts are eligible to apply for a grant to support a project or activity that is supportive of the National JACL Strategic Plan. Grants of up to $5,000 each will be awarded by the Legacy Fund Grants Committee to selected applicants. Funding for the program grants are provided by Legacy Fund revenues.
Deadline: April 8, 2020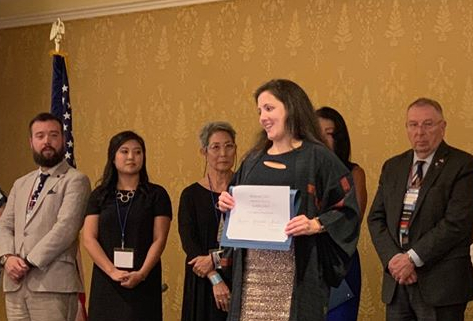 JACL National Scholarship Program
Thirty+ well-deserving students will receive National JACL Scholarships in 2020. In the last four years, we've given out over $316,000 to 129 students.
Freshman Deadline: March 2, 2020
Non-freshman Deadline: April 1, 2020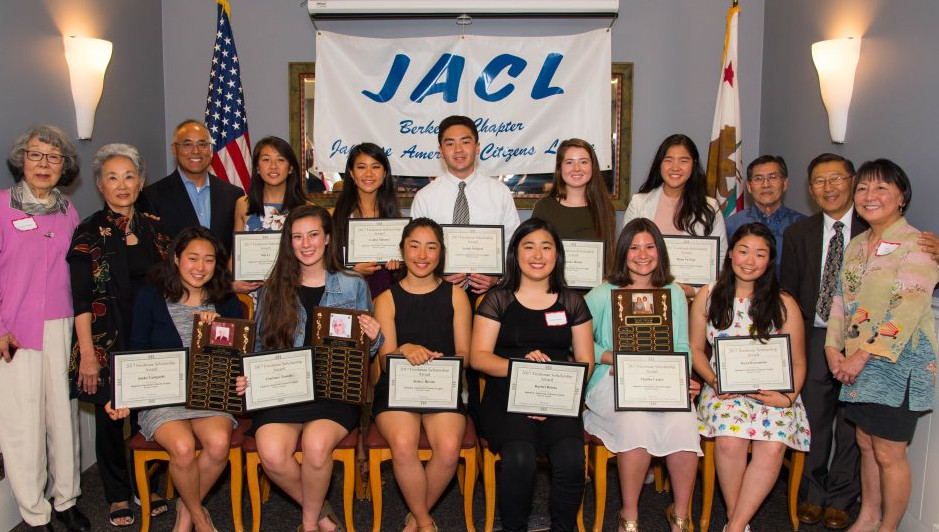 The 2020 Census is Coming Soon!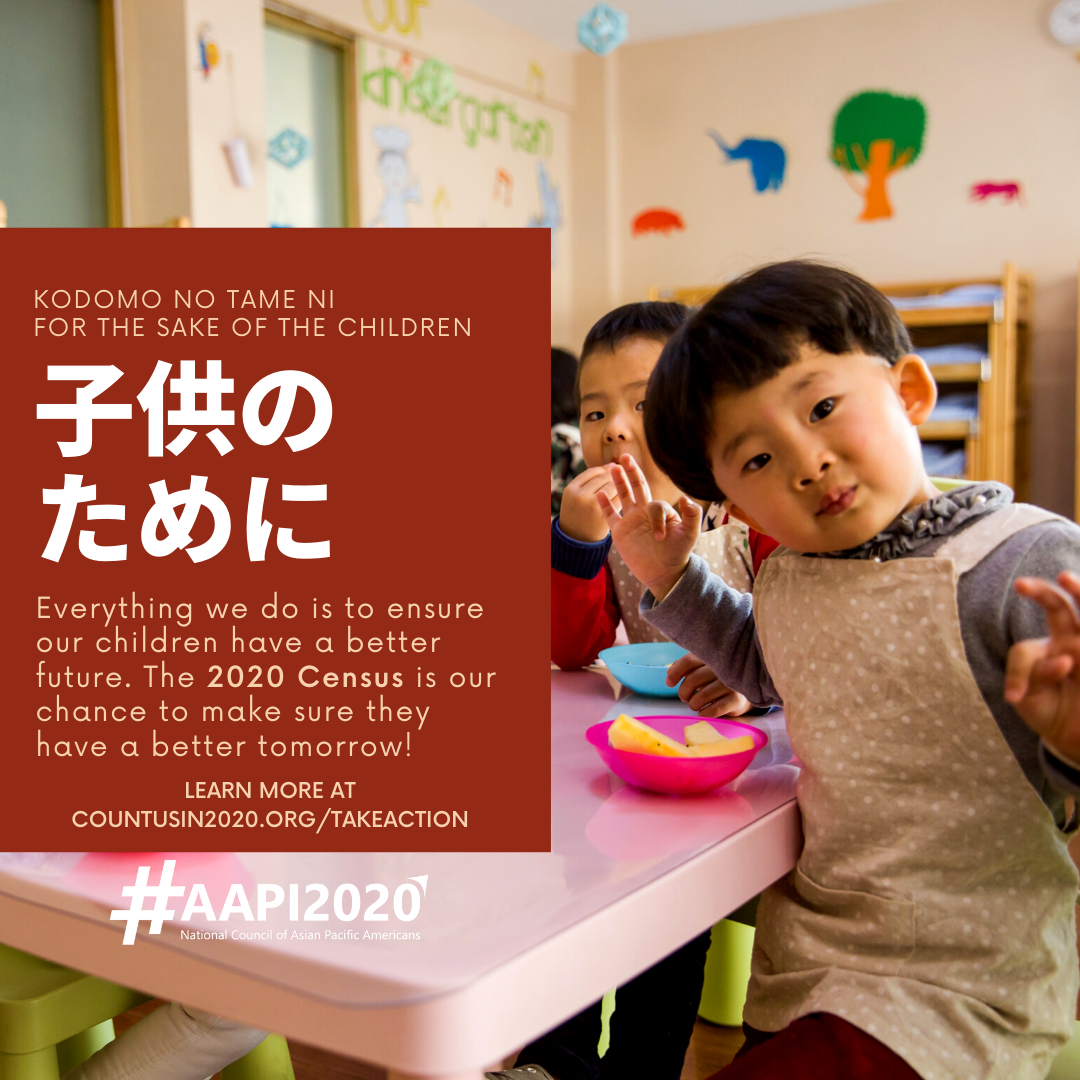 Learn more about the 2020 Census and its important for your family / household here:
Join Tsuru for Solidarity's National Pilgrimage to Close the Camps
Japanese Americans from across the country will gather next spring in Washington, D.C. on June 5-7, 2020 for a "National Pilgrimage to Close the Camps." We plan to bring 125,000 paper cranes, or tsuru, as expressions of solidarity with immigrant and refugee communities that are under attack today. The 125,000 cranes represent the members of our community who were rounded up and incarcerated in U.S. concentration camps during World War II, including both Japanese Americans and Japanese Latin Americans.
Advocacy Opportunity: Join the JACL in Supporting the Dignity for Detained Immigrants Act!
More than one million immigrants arrive at U.S. borders every year, many escaping violent or threatening situations in their home countries.
Under Trump, immigrants arrive to U.S. detention centers that are just as damaging as the violence-prone countries many are fleeing. One investigator even found conditions at the nation's largest Customs and Border Protection detention center "could be compared to torture facilities."
U.S. Congress members, Rep. Adam Smith (D-WA), Rep. Pramila Jayapal (D-WA) and Senator Cory Booker (D-NJ) have sponsored a bill called the Dignity for Detained Immigrants Act, proposing changes to how the U.S. treats immigrants and ensuring transparent and responsible conduct around immigrants awaiting a court decision.
This legislation would implement a shift from detention to alternative housing arrangements for immigrants awaiting court decisions. Community-based supervision programs allow immigrants to live independently, and outside of detention centers.
This legislation will also address transparency in how the U.S. runs its detention centers, calling for regular inspections at detention facilities to ensure that the facility workers are respecting all rights of immigrants.
Migrant families lawfully seeking asylum cannot continue to be abused! Congress must enact legislation to prevent further detainment in for-profit concentration camps. Join the JACL along with other sponsors, Daily Kos, Franciscan Action Network, Blue Future, and more by signing the petition!
JACL Headquarters
1765 Sutter Street
San Francisco, California 94115
(415) 921-5225 | mbr@jacl.org
JACL DC Office
1629 K Street NW, Suite 400
Washington, D.C. 20006
(202) 223-1240 | policy@jacl.org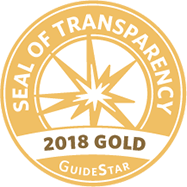 Unsubscribe or change email preferences with the link below